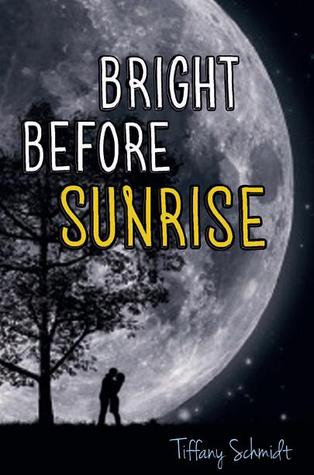 Bright Before Sunrise
, by Tiffany Schmidt, is an all-it-takes-is-one-day-to-change-your-life stories.
Brighton Waterford has, in her own words, turned "behaving into a science." Since her dad died when she was 12, Brighton has made it her job to make her dad proud by being nice...by joining the clubs he joined...by doing all the things she should. And it isn't until she spends most of one evening and late into the night with Jonah Prentiss that she realizes how superficial, bottled up, and lifeless she's truly become.
Jonah Prentiss is a baseball rock star whose life is shattered when his mom has an affair with his physical therapist, getting pregnant, divorced, remarried to the therapist, and moving Jonah to the posh suburb of Cross Point in the middle of his senior year. Jonah is angry at his mom, angry at her new husband, angry at his dad (who blamed Jonah for the divorce and moved to Florida), and simply biding his time until he can leave the soulless streets of Cross Point for college...and anywhere else. Until he ends up spending most of the evening and late into the night with vanilla-ice-cream Brighton Waterford, and discovers that maybe there is something great in Cross Point after all. And maybe it's time he accepted his "now" and lived life moving forward, not backward.
And, of course, there's chemistry and sparks and swoon. But it's about beginning a relationship where the two people challenge each other and bring out the best in each other. It's a well-written story with two dynamic protagonists. The story takes place over the course of one day and night, and definitely lends itself to being read all at once. I have to say that even I was able to devour it in about a day (I may have stayed up past my bedtime to finish).
Bottom line: if you're in the mood for a quick, fun read or some well-written teen romance with great characters and hidden depth, pick this one up.