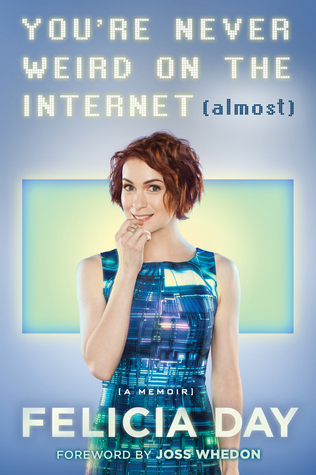 If you enjoy memoirs with a light, quirky, funny voice, you'll probably enjoy this book. If you've ever found yourself with a less-than-mainstream interest, you'll probably enjoy this book. If you've ever found yourself a bit of an outsider, or if it took you a while to find your tribe, you'll probably enjoy this book. If you like anything "geeky" -- video games, board games, fantasy fiction, science fiction, comic books, etc. -- then you probably already know who Felicia Day is and you've already read this book. If not...you'll
definitely
like
You're Never Weird on the Internet (almost).
I thoroughly enjoyed Day's book. I laughed out loud basically at least once a chapter. And while it's certainly wry and witty and funny, Day touches on a few more serious subjects such as her run-in with some of the appalling people of "gamergate" and her near-mental breakdown. But she does so with the light touch with which she writes the whole book. It's light without being frothy, down-to-earth, and like reading a letter from a good friend.
oh, but I do have to say...not ALL homeschoolers (myself included) had her particular brand of kind-of-crazy-and-not-at-all-well-rounded homeschooling. Many of us had/have pretty standard educations.